What is Rotary Friendship Exchange (RFE)?
Rotary Friendship Exchange is when a group of Rotarians from one Rotary district in the world travel to another for fun and fellowship.
RFE team members stay in the homes of Rotarians in 3 or 4 different cities or towns within the district. The RFE team usually consists of 4-6 couples or single Rotarians and the exchange lasts 10-15 days. Exchanges are most often reciprocal, with Rotarians hosting the inbound exchange team in 3-4 communities within our District 5080.
Members of the outbound RFE team coordinate finding host families and planning the itinerary if the inbound team comes to their community.
It's a wonderful way to travel – an immersive experience where you make lifelong friends and discover new cultures and communities.
Exchange programs might include visits to scenic areas, industries, cultural events and community landmarks, agricultural areas and walking tours. Evening gatherings are often held with local Rotarians and hosts. A Rotary Club meeting or two is usually part of the agenda. Visits to Rotary sponsored projects might be included. Program content varies from district to district.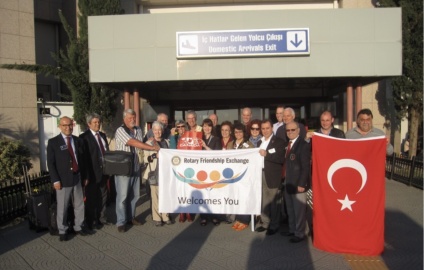 What is the goal of RFE?
In addition to experiencing other cultures and making lasting friendships, an exchange provides a strong foundation for carrying out other international activities and service projects. This supports the fourth Object of Rotary: The advancement of international understanding, goodwill, and peace through a world fellowship of business and professional persons united in the ideal of service.
RFE team members:
Gain opportunities for active project involvement and support

Find partners for grants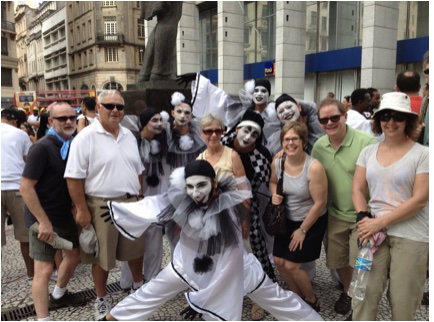 Who selects and organizes an RFE?
Each Rotary District has an RFE committee. The chairs of these committees reach out to each other based on the interests expressed by the committee and members throughout the district. Exchanges can be within the district's same country or around the globe.
What does an RFE cost?
Team members pay their own transportation costs and make their own transportation arrangements to the host district. Local Rotarians usually furnish transportation, accommodations, most meals and a full program.
RFE team members pay a $100 per person non-refundable deposit to cover name badges, team brochures, business cards, an RFE Committee fee of $20 and incidental expenses. A short biography & picture for the team brochure is also required.
Based on their cultural norms, some districts pay for everything for the visiting Rotarians, others expect team members to pay for restaurant meals and admission fees to events. Details for each exchange are covered during the planning phase of the trip.
Team members take gifts to present to each of the Rotarian hosts they stay with as tokens of appreciation.
How do you apply to be an RFE team member?
Each Rotary District sets their own rules for selecting RFE team members. In District 5080, a point system is used to select team members based on club and district participation, with priority given to Rotarians that have not been on a exchange before and making sure there is representation from different parts of the District. There is always a Team Leader who has been on an RFE at least once before.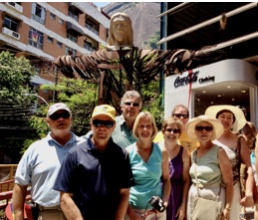 An application form is available to download here to give you an opportunity to see what is evaluated during the selection process.
Once an RFE has been created, an email is sent to all Rotarians within our District 5080 inviting members to apply. This is usually done many months ahead of when the first leg of the exchange will occur so that members can plan, buy their airline tickets and apply for visas, if needed.
If you are a Rotarian in District 5080 and are interested in joining our committee and helping to make Friendship Exchanges happen, please reach out to Alexia at alexiaturner47@gmail.com.
Description of Rotary District 5080
Rotary District 5080 is an international district including southeastern British Columbia, Canada and northern Idaho and eastern Washington in the United States.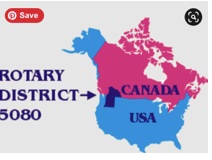 This area offers extraordinary scenery including majestic mountains, lakes, rivers, forests and rolling hills. Recreational activities abound in and around the small towns and cities within District 5080, including hiking, water activities, wineries, craft breweries, outstanding restaurants and cultural events.
The climate has four distinct seasons. Winters, December through March, usually have snow and cold temperatures. There is not a rainy season, although spring, March through June, has more rain than other seasons. Summers are June through August with moderate to hot temperatures with dry rather than humid conditions. September is usually pleasant with temperatures falling during October and November.
District 5080 has an active Friendship Exchange Committee and we are preparing exchanges 18 to 36 months out. If you are a District Representative that is interested in doing an exchange with us then please contact Alexia at alexiaturner47@gmail.com.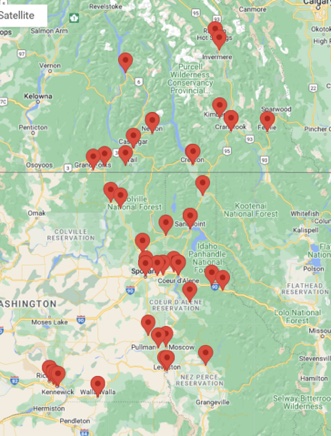 Most recent RFE exchanges:
There was a pause of exchanges during the pandemic and the first post-Covid exchange will be to New Zealand: inbound Sept. 2023, Outbound Nov. 2023.