Purpose
The District 5080 Peace Committee was created in September 2021 and is charged with promoting and enabling the Rotary International Peace Narrative based on the 8 Pillars of Positive Peace in Rotary Clubs within District 5080, among Districts within and outside of Zone 26/27, and across the Globe.
Objectives
The engagement and empowerment of Rotarians and other stakeholders who are Practitioners, Educators, Mediators, and Advocates of Peace.
The creation of partnerships with International Rotary and NGOs for the purpose of identifying and accessing resources and best practices to support the work of the District, its Clubs, and members engaged in the mission of Peacebuilding.
Sub-processes Included:
Peacebuilding Conference Development
Peacebuilding Conference Implementation
Peacebuilder Club Recruitment
Peacebuilding Education
Peacebuilding Support/Advisory for the District and its Clubs
Peacebuilding Fundraising
Out of Scope:
Rotary Peace Fellows Scholarship Recruitment
Rotary Peace Fellows Scholarship Selection
Outcome / Deliverables
Recruitment of a cadre of people of action who are engaged, empowered, educated, and energized as Peacebuilders and who see themselves as promoting the Rotary International Narrative of Peace as: Practitioners, Educators, Mediators, and/or Advocates.
Creation of an action plan to promote Peacebuilding as a primary focus of District 5080 and its Rotary, Rotaract, and Interact Clubs.
Transformation of Rotarian views and actions on Peace and Peacebuilding locally, Nationally, and around the world as an organizational priority so World Peace can be achieved.
Promote the use of the 8 Pillars of Positive Peace as a framework for conversation in all District 5080 clubs by providing training and opportunity for the use of the pillars to encourage peaceful conversations that involve difficult and challenging topics.
Membership
This committee will be made up of representatives from each area of the District.
All committee members have completed of the Rotary Positive Peace Academy training on the 8 Pillars of Positive Peace.
Committees
The functions of the Peace Committee are divided into several areas of focus in Peacebuilding through the development of several Sub-Committees.
These Sub-Committees include:
Youth Peace Action Sub-Committee
Waterton-Glacier International Peace Park Sub-Committee
Peacebuilder Clubs in District 5080 (Seven as designated by the Rotarian Action Group for Peace)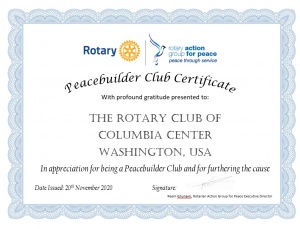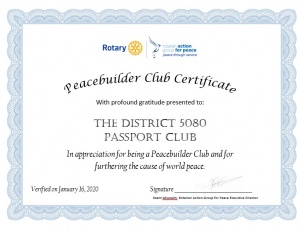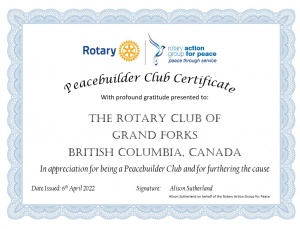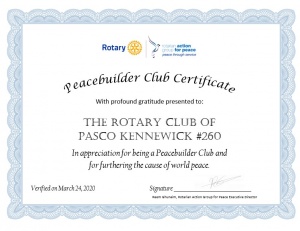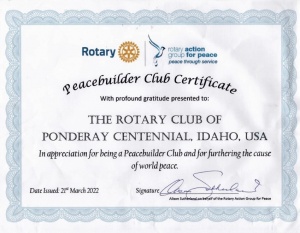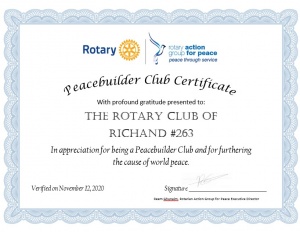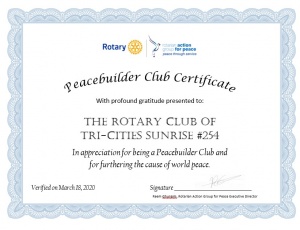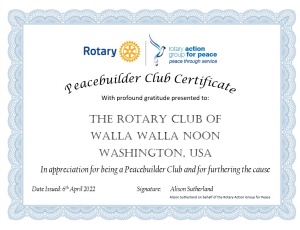 Rotary Peacebuilder Districts World-wide (19)
2750

Metropolitan Tokyo

ZONE 02: Guam, Japan (central), Micronesia, Northern Marianas, Palau: 2570, 2580, 2590, 2600, 2610, 2620, 2750, 2760, 2770, 2780, 2790, 2820, 2840

2780

Central Japan

2720

Southern Japan

ZONE 03: Japan (southern): 2630, 2640, 2650, 2660, 2670, 2680, 2690, 2700, 2710, 2720, 2730, 2740

5170

San Jose, CA

ZONE 26: USA (AZ, CA, CO, HI, NM, NV, TX): 5000, 5170, 5220, 5230, 5240, 5280, 5300, 5320, 5330, 5340, 5450, 5470, 5495, 5500, 5520, 5730

5100

5020

Northern OR

Vancouver Island, BC

ZONE 27: USA (CA, CO, ID, MT, NE, NV, OR, UT, WA, WY), Canada (BC): 5020, 5030, 5080, 5100, 5110, 5130, 5150, 5160, 5180, 5190, 5390, 5400, 5420, 5440

5030

Western, WA

5080


Eastern WA, Northern ID, Southeastern BC

5180

Greater Sacramento, CA

6690

Columbus & Southeast Ohio

ZONE 30: USA (AL, IN, KY, OH, TN): 6540, 6560, 6580, 6600, 6630, 6650, 6670, 6690, 6710, 6740, 6760, 6780, 6860, 6880

6860

North Alabama

6060

Eastern Missouri

ZONE 31: USA (AR, IL, KS, LA, MO, MS, OK, TN, TX): 5750, 5770, 5830, 6040, 6060, 6080, 6110, 6150, 6170, 6190, 6200, 6460, 6490, 6510, 6800, 6820, 6840

6490

Illinois

7610

Northern VA

ZONE 33: USA (D.C., DE, MD, NC, PA, SC, TN, VA, WV): 7280, 7300, 7330, 7360, 7530, 7550, 7570, 7600, 7610, 7620, 7630, 7670, 7680, 7690, 7710, 7720, 7730, 7750, 7770

7680

West Central NC

7690

Piedmont NC

7710

Raleigh-Durham-Chapel Hill NC

7770

Eastern SC

6910

Northern GA

ZONE 34: The Caribbean (except Dominican Republic), Bahamas, French Guiana, Guyana, Suriname, Turks and Caicos Islands, USA (FL, GA): 6890, 6900, 6910, 6920, 6930, 6940, 6950, 6960, 6970, 6980, 6990, 7000, 7020, 7030